With our universal ninepin alley software, we cover your complete lane control.Whether games or competitions, everything can be managed from the terminals and from the PC Control Center with little effort.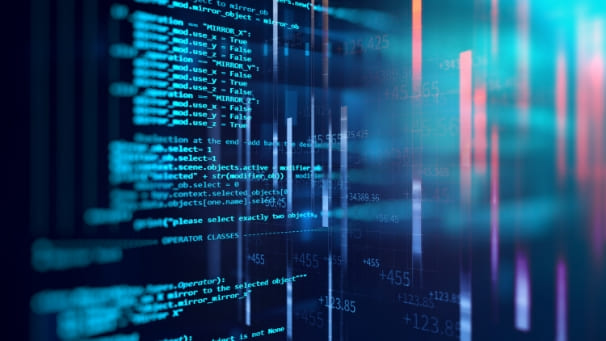 Your wishes
implemented 1 to 1
Do you have additional ideas for your ninepin alley?
No problem! Our highly competent team will be happy to implement your wishes quickly and efficiently.
Equipment for your bowling alley
With the use of lane PCs there is the possibility of leisure ninepin bowling. These are attached behind the monitors which gives you access to a variety of game variants and more than 50 video animations ("all nine", …).
With our system there is also the possibility of displaying advertising images.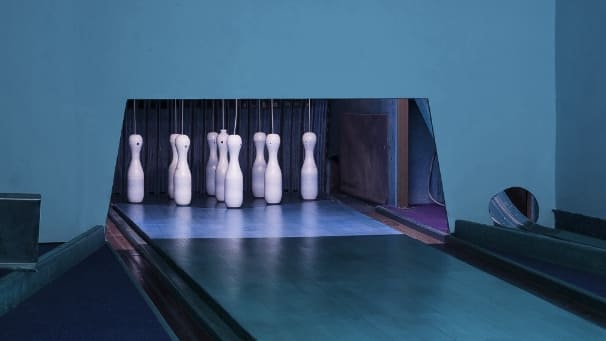 It is possible to connect to all commercially available setting machines, except rope-free. The results are displayed using one or two-line totalizer displays. The controls can be used for all types of lanes (classic, scissors, screed).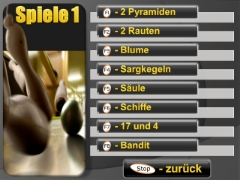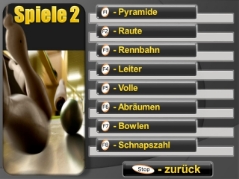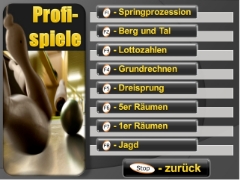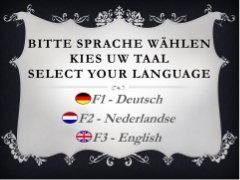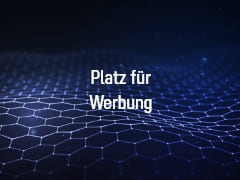 Over 20 leisure games ships, balloon, rhombus and much more.
Various professional games: lottery numbers, basic arithmetic …
Erotic bowling with matching reward images for men and women
Leisure ninepin in bowling style
Children's bowling with shrill sounds and matching reward images / videos
LED monitors with approx. 40 "(more / less on request) mounted on the ceiling or wall
PC with WIN 10 installed behind the monitor
Control panel in the console
Complete network setup with all system components
Control Center
ninepin (CCKv2)
Our equipment for your bowling alley offers numerous configuration options. The main focus here is our monitor systems that efficiently monitor your ninepin alleys.
When used with the Control Center, the lane screens can display detailed information for each bowler. Home and guest announcements as well as player lists can also be displayed on each lane screen.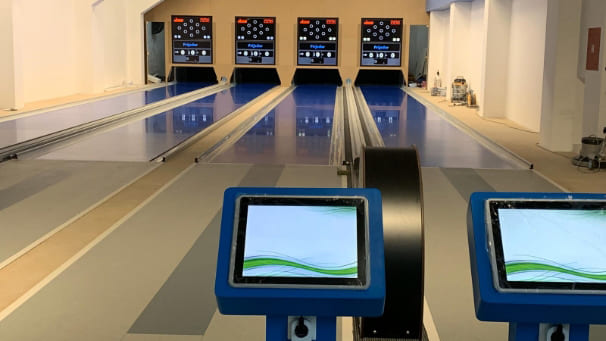 Comprehensive team and player management
Simultaneous control of several competitions
Configurable, live updating competition displays (including display with / without points, competition counting device)
Free options for creating competition schemes
Full connection of the Sportwinner
Creation and implementation of sprint / tandem competitions in a separate competition mode
Complete storage of all competitions (reports can also be printed out later)
Competitions can be reinstated after termination, e.g. due to a power outage
Possibility to import teams and competition schemes from the previous version of the CCK
Output of individual and match reports, data export to Excel reports possible
PLAYER PICTURES AND ADVERTISING
Possibility to enter gamer pictures and further information for each player (e.g. the best results)
Smoothly transfer player pictures from the phone memory or recorded live with the camera to the CCKv2 (in combination with smartphone app)
Player pictures and information are automatically displayed during the players trial phase
The display of player pictures on the screen displays either changes back to the set totalizer display at the end of the Trial phase, or automatically after a predetermined time, which is started with the first throw
The "Advertising" function makes it possible to define an advertising image for each lane, which can then be activated and deactivated manually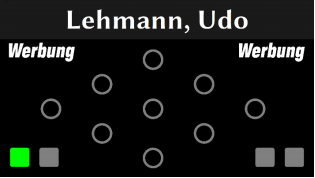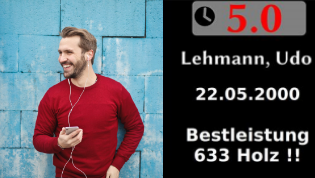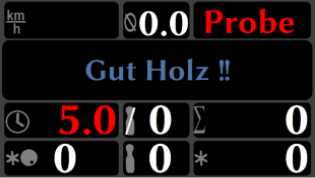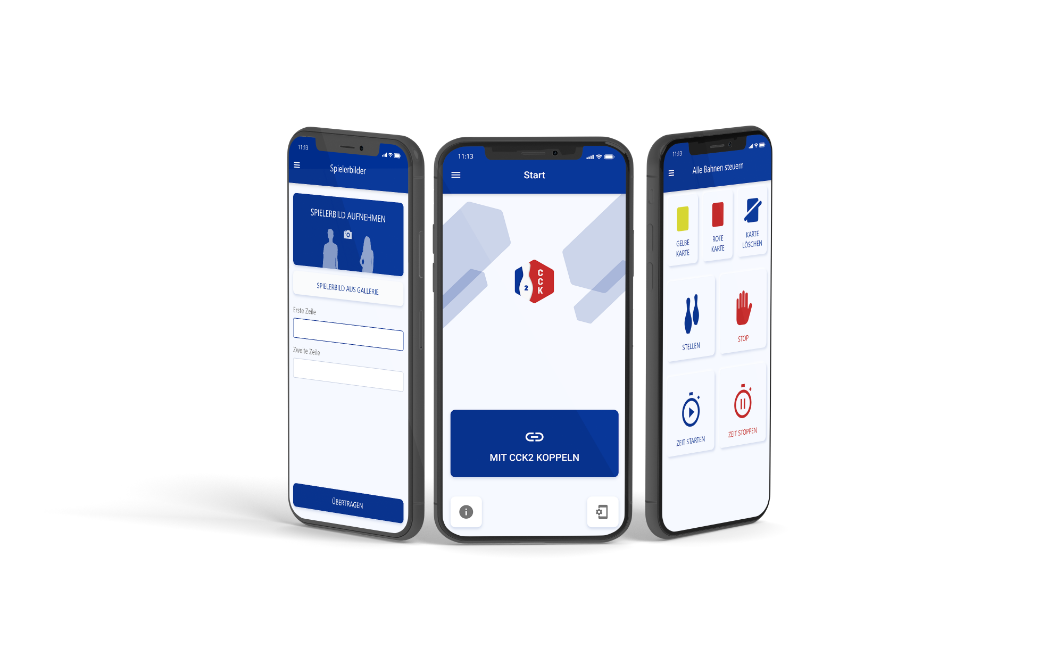 Help for a.o. the referees, as the competitions can easily be controlled from their smartphone
Actions for the competition control:
End of trial
Lane change
Substitute players
Actions across all lanes:
Lane stop / set pins
Time start / stop
Actions on individual lanes:
Lane stop / set pins
Time start / stop
Yellow card
Yellow-red card
Delete card
Transfer of gamer pictures in the CCKv2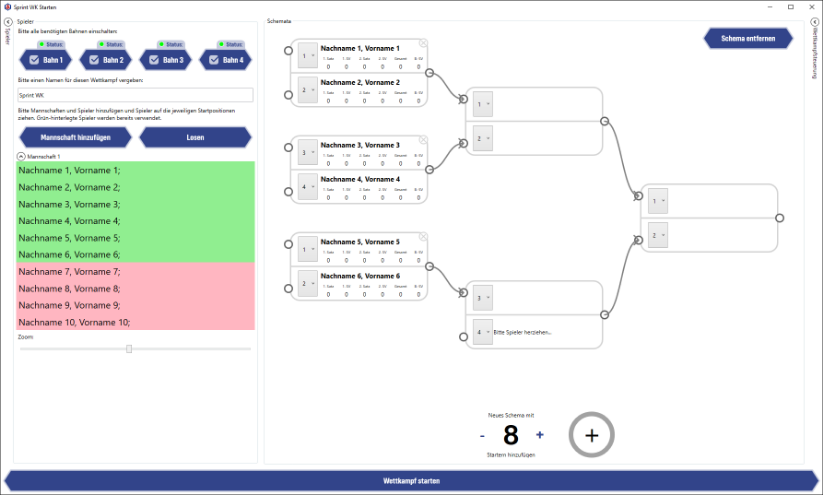 Sprint / tandem competitions
Here you can freely configure your competitions according to the "cobweb system". Drawn players can quickly be assigned to their starting position in simple or parallel schemes. (e.g. women: lanes 1-4 and men: 5-8)
Competition mode "Lucky Losers" possible
Starting and controlling several competitions at the same time via freely selectable lanes and lanenumbers
Creating, saving and loading of competition templates
Large selection of special functions, including Live printout of results, kids mode, sudden victory & automatic printing of player reports
Competition results can be tickered live
Our new Control Center offers you extensive possibilities to create training sessions. We have placed great importance to the parallel implementation of different training sessions on freely selectable courses. The export and import of training sessions is also quick and efficient, so that players can quickly execute their personal plans on different systems.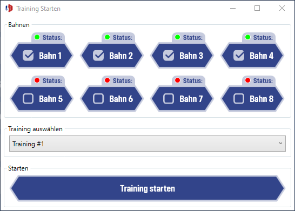 Create, save and edit an unlimited number of training plans
Easy import and export of training plans so that players can quickly start their customized training plans on all lanes
Parallel starting of different or the same training plans across all lanes
The specially created display mask shows the most important information for the training.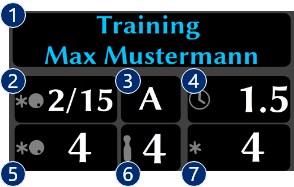 Name of the training program
Throw in the current training mode
Currently set mode

A = Clear
B = Images
V = Full

Remaining time in the current training mode
Total throw since training started
Single (number of pins from the last throw)
Total since training started
Highest technology for your ninepin alleys
Whether classic or scissor lanes with our Control Center, both ninepin lanes can also be operated simultaneously. Even Competitions can be held across tracks.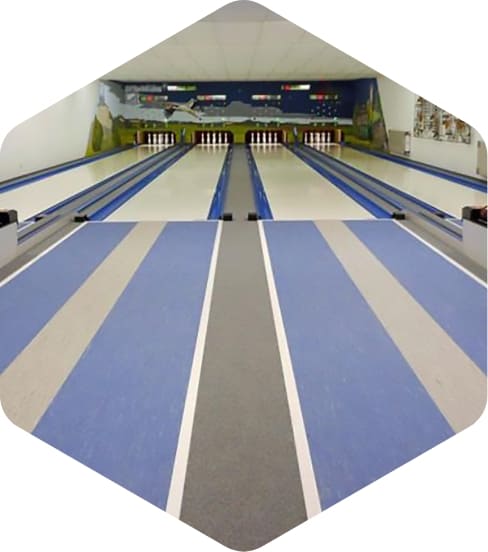 Our evaluation program for the ninepin sport was used, among other things, at these ninepin world championships:










Sarajevo
2011 Bosnia and Herzegovina